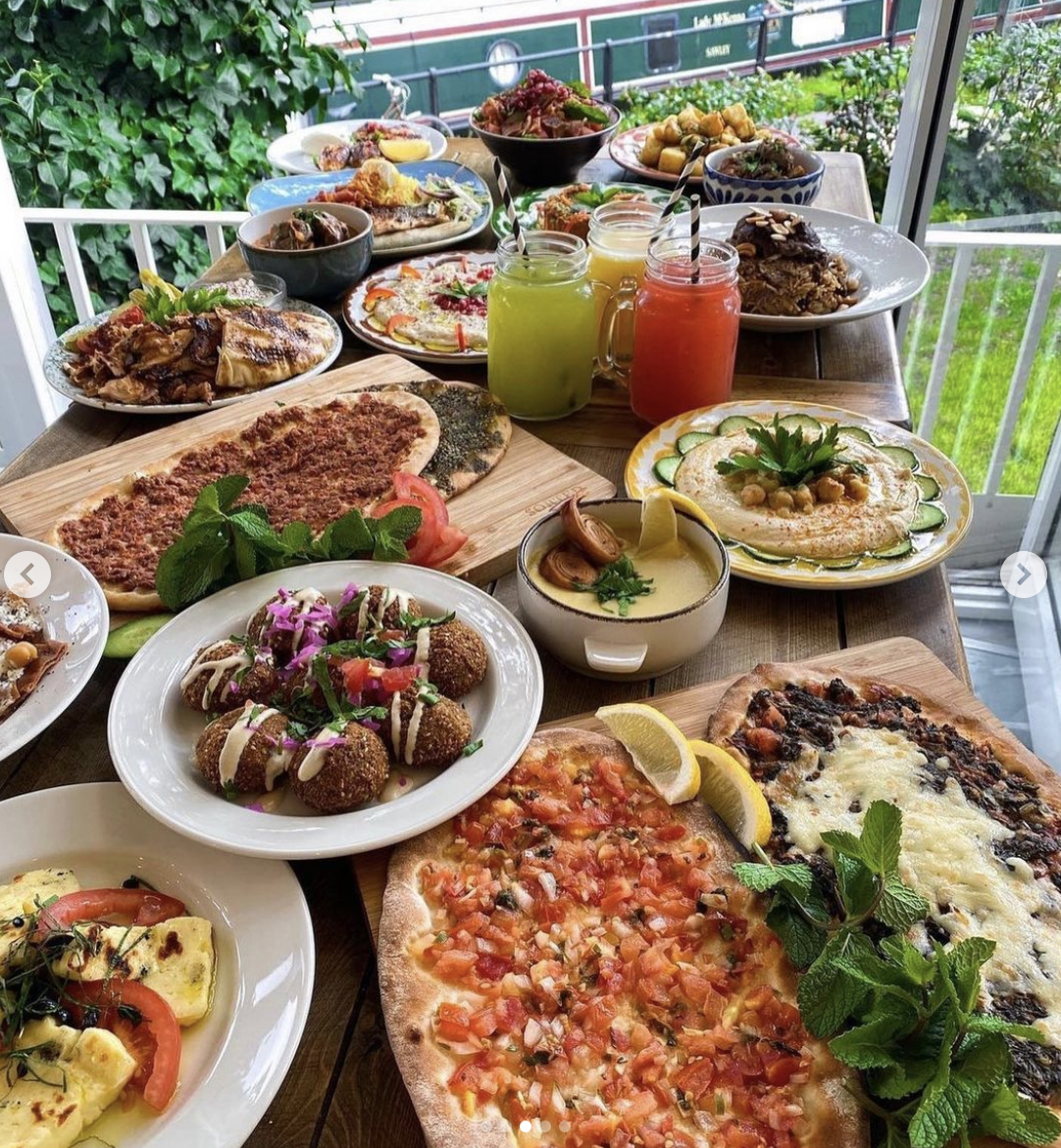 5 Halal Breakfast Places in London with Vegan Options
Who doesn't love a good breakfast that you don't have to cook or prepare yourself? Since we can finally sit indoors at restaurants now, we decided to put together a list of five of our favourite halal breakfast spots (with excellent vegan options) to frequent in London. From Paris-inspired brasseries, to authentic Lebanese food, excellent vegan options and everything in between, you're sure to find something you will love. Make brunch plans this weekend or schedule your next work meeting at one of these places for a meal that will not disappoint!
1. Forks & Green
All day brasserie Forks & Green is located in West Green, North London and sources all their produce locally using fresh ingredients. Inspired by traditional Parisian brasseries, they serve a brunch style cuisine, from light breakfasts and toasts, to breakfast brunch bagels, waffles and pancakes, burgers and sandwiches and pasta dishes. Bordering Downhills Park, you have a beautiful view whilst dining in. Their Mediterranean and Canadian breakfasts are pictured here, along with the chicken and waffle. They have plenty of hot drink, soft drink, milkshake and smoothie options. Forks & Green also offer several vegan friendly and vegetarian dishes, as well as a handful of gluten free options.
Halal status: Ask your server for halal requirements.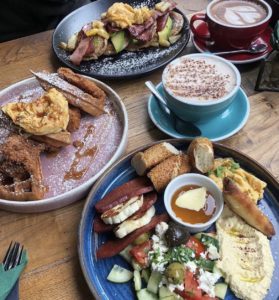 2. Grounded Coffee Company
Walk straight in to Grounded Coffee Company in Whitechapel, for high quality, freshly roasted coffee made on site, organic ingredients and day and night menus! Breakfast is served from 7 am to 4 pm on weekdays, so you can treat yourself before that 9 am Zoom meeting, and 5 pm to 11 pm on weekends. Classic options include beef sausage breakfast (pictured here) with sausage, turkey bacon, beans, tomato, mushrooms and fried eggs on sourdough. You can add extras to your breakfast – look at how chunky that halloumi is! They also have a several veggie versions and a smoked salmon option. Other alternatives include omelettes, pancakes, vegan options, smoothies and fresh juices.
Halal status: All meat is certified halal.
3. Heart of Balham
Heart of Balham in, well, Balham, has an extensive breakfast menu with seven different options for eggs alone – Sucuk omelette anyone? For breakfast, you can choose between a Lebanese breakfast (with a veggie option), a Mediterranean breakfast, a hob breakfast which is your classic English and a vegan bake up with smashed avocado, sourdough toast, spinach, vegan sausage, grilled tomato, mushrooms and home stewed beans (pictured here). They also have an extensive drinks menu with everything from a turmeric super latte, dirty chai, Cortado leche leche and even a beetroot super latte. There are plenty of iced options if you fancy something cold in this gloriously warm weather we're having and classic options like cappuccinos and espressos for those of you that like to play it safe.
Halal status: Ask your server for halal requirements.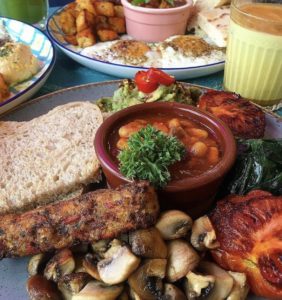 4. Beit El Zaytoun
Authentic Lebanese food in North West London, with Beit El Zaytoun's offering of a Lebanese full breakfast (pictured here) served until noon on weekdays and until 1 pm on weekends. The full breakfast is chock full of traditional favourites like Makdous (pickled aubergine with walnuts and peppers), Bayed Mekly (Lebanese scrambled eggs), and Mrabba El Tin (Lebanese fig jam). To drink, you have a choice of mint tea or Turkish coffee served in pots, or you can opt for fresh juices and mocktails with a traditional twist. There is indoor and outdoor seating with beautiful views overlooking the river.
Halal status: All meat is certified halal.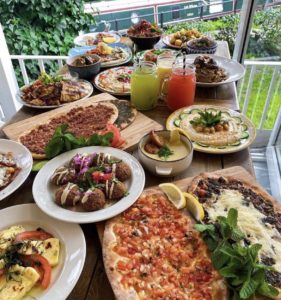 5. Drunch
Drunch Mayfair & Regent's Park eclectic offering (they have a life sized pink bear at the front of the restaurant that you can't miss!) is a regular high-end destination for tourists and locals alike. This is a café style eatery with a breakfast, brunch and shisha offering. You'll find full, vegetarian and vegan English breakfasts here – pictured here is the vegan English breakfast with tomatoes, mushrooms, hash brown, avocado, spinach, beans and hummus on toast. Drunch's slogan is 'Good Times Only' and with high quality ingredients, an international menu that includes Turkish eggs and a Mexican omelette, and an Instagrammable entrance, you know you'll have a good time!
Halal status: All meat is certified halal.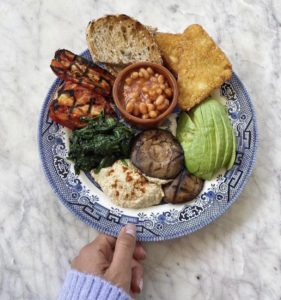 Nearly all of these restaurants offer delivery with Deliveroo or Uber Eats so if you can't get to them, order in and enjoy a delicious breakfast at home in your pyjamas. They also offer collection options so if you can't stay to eat, you can always grab a takeaway. Have you tried any of these breakfast spots? What other halal breakfast places around the capital are your absolute favourites?