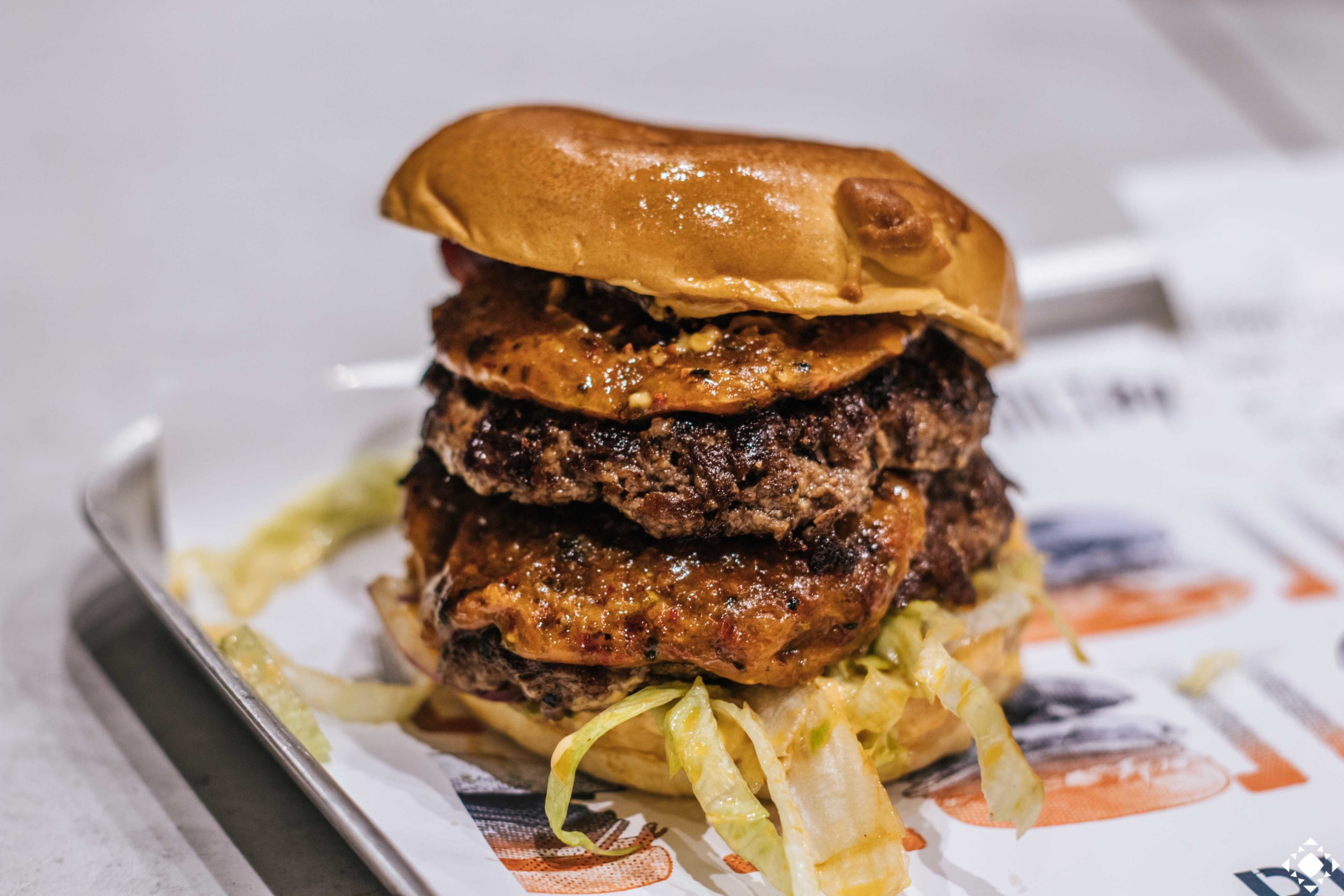 Reviewed by Ruman
Is it just me or does a new halal burger joint pop up every month?
When we were contacted by BUILT Custom Burgers in Ilford we didn't exactly rush to try it. Ilford always feels like a bit of a mission to get to (patiently waiting for the day the Elizabeth line passes through). We finally managed to take the restaurant up on their offer a few weeks ago on a Saturday evening.
The owner greeted us straight away and explained the concept (order like you do at Nando's, choose your toppings like you do at Subway). My immediate thoughts when entering the restaurant was that it reminded me of the Fatburger branches in the UK. Both built burgers and Fatburger serve smashed beef patties and the concept is similar. I was pleasantly surprised to find that BUILT Custom Burgers offer free unlimited toppings and that the prices of their burgers weren't on the higher end of the scale.
The ordering process is pretty straightforward. Choose from pre-built options 'built for me' or create your own: 'built by me'. If you're building your own burger, you start off by choosing a bun or bowl, choose a protein (Angus beef, chicken, vegan veggie) and finally a cheese (five options available). Then choose any sides and drinks.
I went for a double Angus beef burger in a brioche bun with Jalapeño Cheddar cheese. After placing my order at the till, I moved on towards the Subway style section where I was to choose my toppings. If I remember correctly, I only added on lettuce. The burger was pretty good and very messy! The patty was flavoursome and the jalapeño cheddar added a kick to it. I wasn't asked how I wanted my burger to be cooked and unfortunately it came out well done. Aside from wanting a medium patty next time, I wouldn't change anything on the burger.
I ordered sriracha chips as a side which were a great accompaniment. I was disappointed to see that they had been served in a white plastic bowl (the kind you can get at the pound shop). The use of these gave the brand a cheap feel and I hope the restaurant plans on changing this. The chips were barely warm by the time they arrived at our table although some in the middle had retained a bit more heat.
Zohra also ordered a double beef burger although she went dairy free and chose more toppings than I did. One thing she commented on was that the process of choosing toppings could be improved. The 'hot' toppings were at the end of the line while the 'cold' toppings were at the beginning. This meant it took a while or the burger to be made because by the time she reached the point at which turkey bacon was ordered, it still needed to be cooked / heated on the grill. It would make more sense to place these at the beginning so the chef can start heating the 'hot' toppings while another staff member assembles the bun / salad. The layout of the sauces were also a little confusing as it wasn't clear which name corresponded with which sauce.
Zohra ordered Garlic Tots as a side and these were delicious. Served in the same type of bowl as mentioned above, these were served hot and are slightly addictive! Definitely something we'd recommend.
Although there are some improvements that can be made at BUILT Custom Burgers, I'll put those down to teething problems for now. A few things can be done to improve the ordering process to speed it up and make it easier for the customer to know what toppings / sauces are available. It wasn't particularly busy when we visited, but I would imagine that with the current set up, they would struggle when it is packed as you'd have lots of customers gathered right next to the entrance waiting to order. The food itself is good and with the price points they have, it definitely has an edge above the likes of Fatburger. It's absolutely worth visiting if you're a local but with an incredible number of burger joints in London, it's hard to imagine trekking to Ilford for it.
RATINGS
Food: 7.5/10
Service: 7/10

Atmosphere/Decor:
7/10
Value for money:
7.4/10 (£21.95 total bill // £10.98pp – we received a complimentary meal)
Overall:
7.5/10
Halal Status:
All meat served is halal.
Address:
112 Cranbrook Rd, Ilford, IG1 4LZ
Nearest station:
Ilford (TFL Rail)
Discover great halal restaurants near you using the Halal Gems Restaurant Finder App. Download it for free on the App or Play Store here.About Ruman
Ruman eats a brownie a day, but only with coffee. She struggles to eat more than 2/3 of an adult size portion of food, but always has room for dessert. When not exploring restaurants, galleries or cities around the world, Ruman is a Marketing Ninja at Halal Gems, where she also holds the title of Chief Chocolate Officer.
Forever consumed by a mixture of wanderlust and FOMO, her interests include all things social media, travel, charity, photography and food.
You can follow Ruman on
Instagram
and
Twitter
.