Sundays are for lie-ins, or in my case lazily lolling about in my comfy bed till around lunch time. However, the scheduled slumber snooze was cancelled when I got wind of the UK's largest chocolate show setting up camp in London for three days.
Marking the grand finale of Chocolate Week (13-19 October), this was a festival of epic proportions celebrating all things cocoa and with four hours sleep from the night before, I was solely dependent on my sense of smell and taste to give me that much needed sugar rush.
Demonstrations from top chefs, pasty chefs and chocolatiers, tastings and talks with chocolate experts, truffle rolling workshops and a jaw-dropping catwalk show involving couture outfits made and inspired entirely by chocolate just about summed up this event. Some of it was ridiculous. Possibly it could be argued that was the case with the dresses (all that delicious chocolate going to waste) but it was also a golden opportunity to meet highly skilled and talented artisan chocolatiers as Paul A.Young and Aneesh Popat and sample their unique and tongue-tingling creations.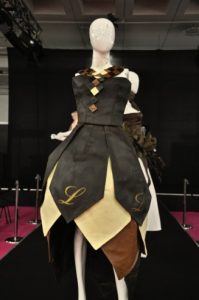 Jars of Paul's highly sought-after Sea Salted Caramel were available to take home. It is ridiculously divine. The award-winning truffles that bring together the union of the rich and salty caramel with the sweet taste of chocolate deserve a mention. Paul had a new recipe to share at the Chocolate Show as well – slow-roasted Garlic truffles – which interestingly sweetens the taste of garlic when roasted. It may not tickle everyone's tastebuds but then the same could also be said for his Marmite truffles and brownies.
Meanwhile Aneesh's approach honed in on his Indian heritage and roots with his sweet and spicy treats ranging from Cardamon to Kulfi flavoured and entirely alcohol, gluten and gelatine free and suitable for vegetarians.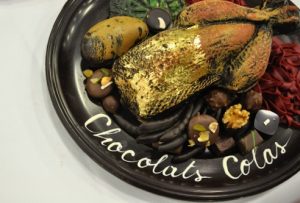 Dotted around the hall were sculptures and works of art beautifully made entirely of chocolate from a Sunday roast to a life-size owl. The attention to detail was staggering and proof that you needn't devour chocolate to get pleasure from it.
For the majority the show was an excuse to buy an incredulous amount of chocolate but for the genuine connoisseur, it's what sweet dreams are made of. Fascinating and enlightening, I'm looking forward to what next year's show will bring.