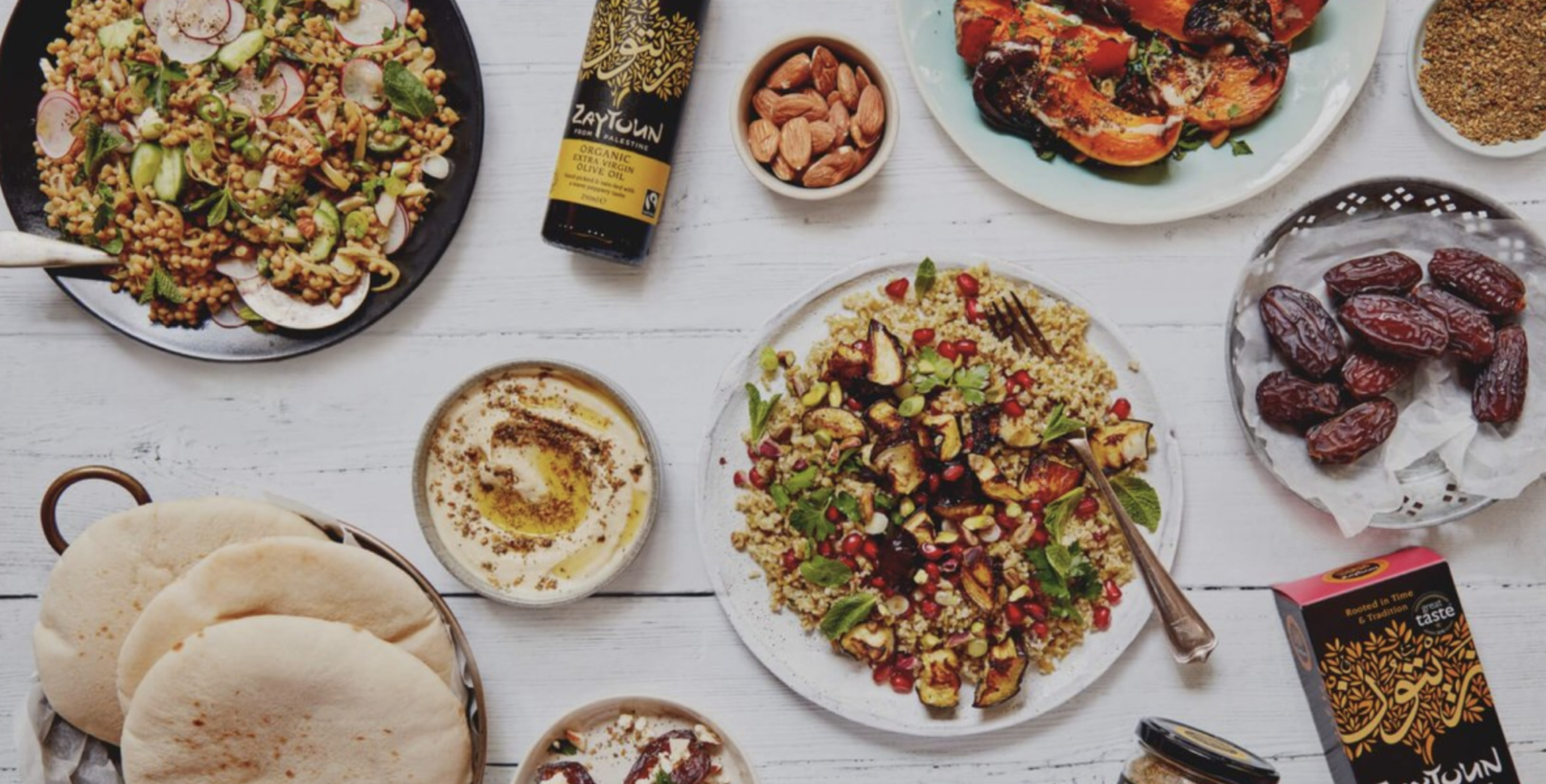 Palestinian-owned food businesses & restaurants you can support
When we read, watch or listen to news about the Israeli occupation of Palestine and the destruction and theft of their land and homes, a sense of helplessness grows as we sit here, thousands of miles away, unable to really contribute or do anything to support the Palestinians. We've put together a list of four Palestinian-owned food and lifestyle businesses that you can support to directly impact the livelihood of Palestinians in Palestine, but also those here in the UK running these businesses that are working hard to promote human rights in Palestine.
Zaytoun
You're probably familiar with Zaytoun's delicious products and beautiful packaging, but did you know Zaytoun is a community interest company that was founded to support Palestinian farmers? 100% of their profits are reinvested into furthering this mission. They stock olive oil, medjoul dates, almonds, za'atar, and grains like giant Palestinian couscous (maftoul) that have been awarded a Great Taste Award. If these ingredients aren't your thing, you can also donate to plant a tree, which is a wonderful ethical gift and supports those whose land has been impacted by the occupation – prioritising young people and women. They have also previously organised trips to Palestine – there isn't one planned for 2021 due to COVID, but keep an eye on their website for updates.
Zaytoun – A community interest company founded to support Palestinian farmers. 100% of profits reinvested into furthering this mission. You can also donate to plant a tree.
Café Palestina
Not just a café, this social enterprise serves Palestinian food, runs events, serves as a venue for community and entertainment events and sells handmade and fair trade Palestinian products including pottery, olivewood, glassware, and soap. They also support the human rights charity CADFA. Stop by the café to enjoy all day traditional Palestinian breakfast or even just a cup of tea. If you've been meaning to learn Arabic, they run group classes for adults and children. You can also support Café Palestina by purchasing from their online store if you don't live in London or can't make it into the shop.
Yaffa
Yaffa is an established UK brand for Palestinian products with an online shop that offers Palestinian medjoul dates, herbs and spices, coffee, extra virgin olive oil, and keffiya scarves amongst other things. So whether you're stocking up on dates, want to try their popular za'atar (thyme) blend, or are looking for an original Hirbawi to wear to the next protest you attend, you'll find it all here.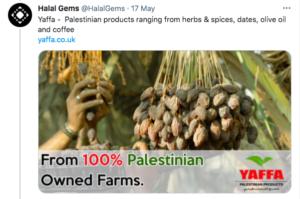 el Bustan
Translated from Arabic to mean 'The Garden,' el Bustan, a Palestinian lifestyle shop sells traditional, modern and handmade products made by Palestinian women, artisans, artists and designers.  If you live in North London, they also offer free local delivery. Alternatively, you can shop online or pop into store. They have beautiful homeware pieces made of olive wood that is ethically sourced from Bethlehem – you could have a piece of Palestine in your home. Tatreez scarves, handmade jewellery and calligraphy prints would all make beautiful Eid gifts for Eid ul Adha this year and you'd be improving Palestinian livelihoods whilst you do it.

Support these businesses by buying from them when you can or sharing their details with others. We know from Zaytoun that Palestine has been unable to reach its full export potential because of constraints caused by the occupation, but access to foreign markets can help to improve their food security as we support farming initiatives by purchasing these products, improving livelihoods and land security for farmers. It's a small form of support but if enough of us do it, we can make such an incredible impact.