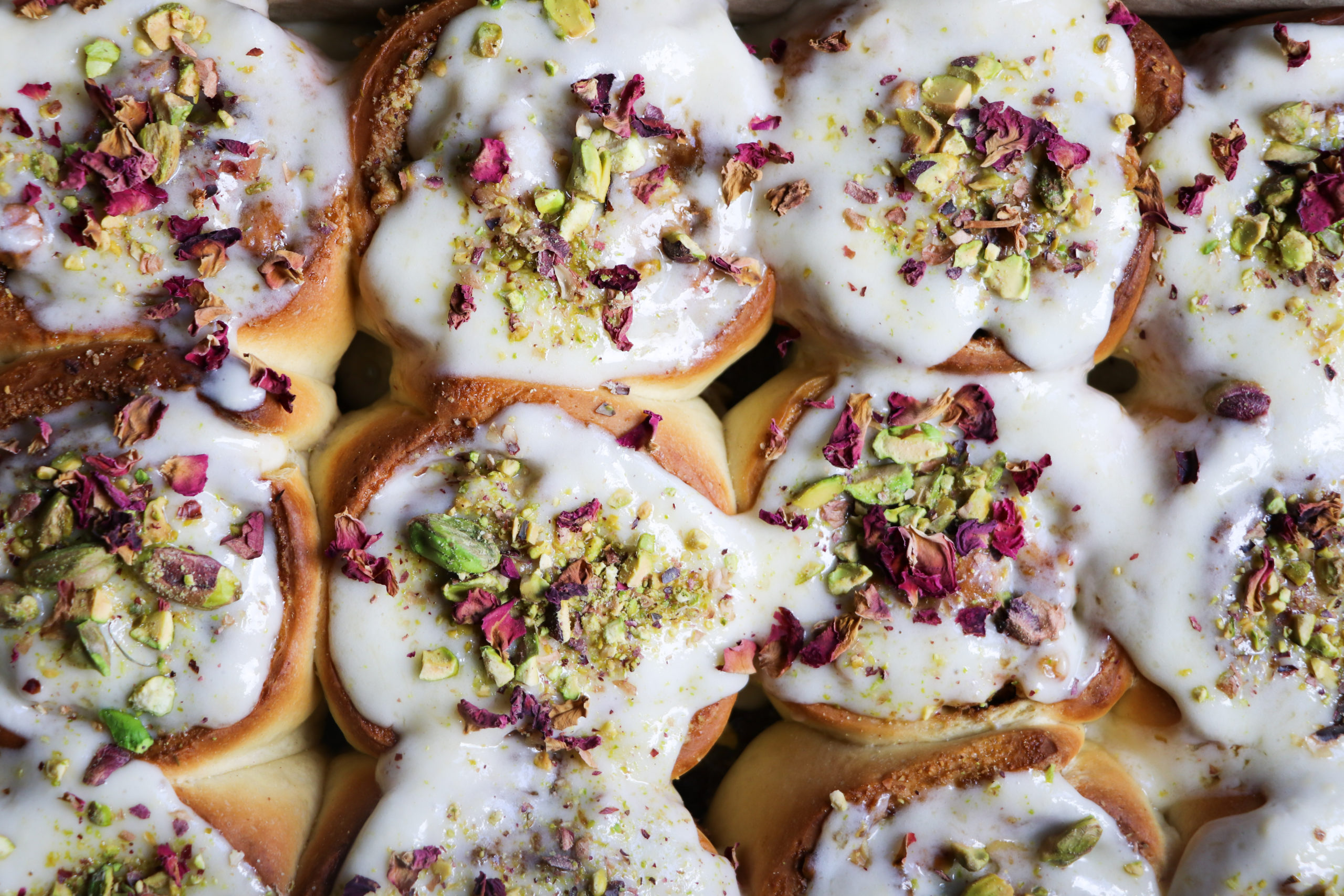 Decadent Baklava Buns Recipe by @Jenanland
These food takeovers are brought to you by Islamic Relief UK who are distributing food packs to ensure that those who are fasting with little access to basic food items have essentials like flour, rice and lentils to last the month of Ramadan, meaning they can focus on their spiritual duties over the month. Head here to find out more and support a family.
These buns are such a perfect sweet treat. They're the kind of dessert that I take into consideration when having mains because I know I have to save space for them.
They're incredibly fluffy buns, coiled with crushed pistachios and walnuts that become toasty when baked, and sticky from the cinnamon sugar that caramelises and engulfs them. It's then topped with the most floral cream cheese glaze which brightens up every bite.
Head over to the Halal Gems Instagram where you can find a step by step guide in our highlights of Jenan making these beautiful Baklava buns.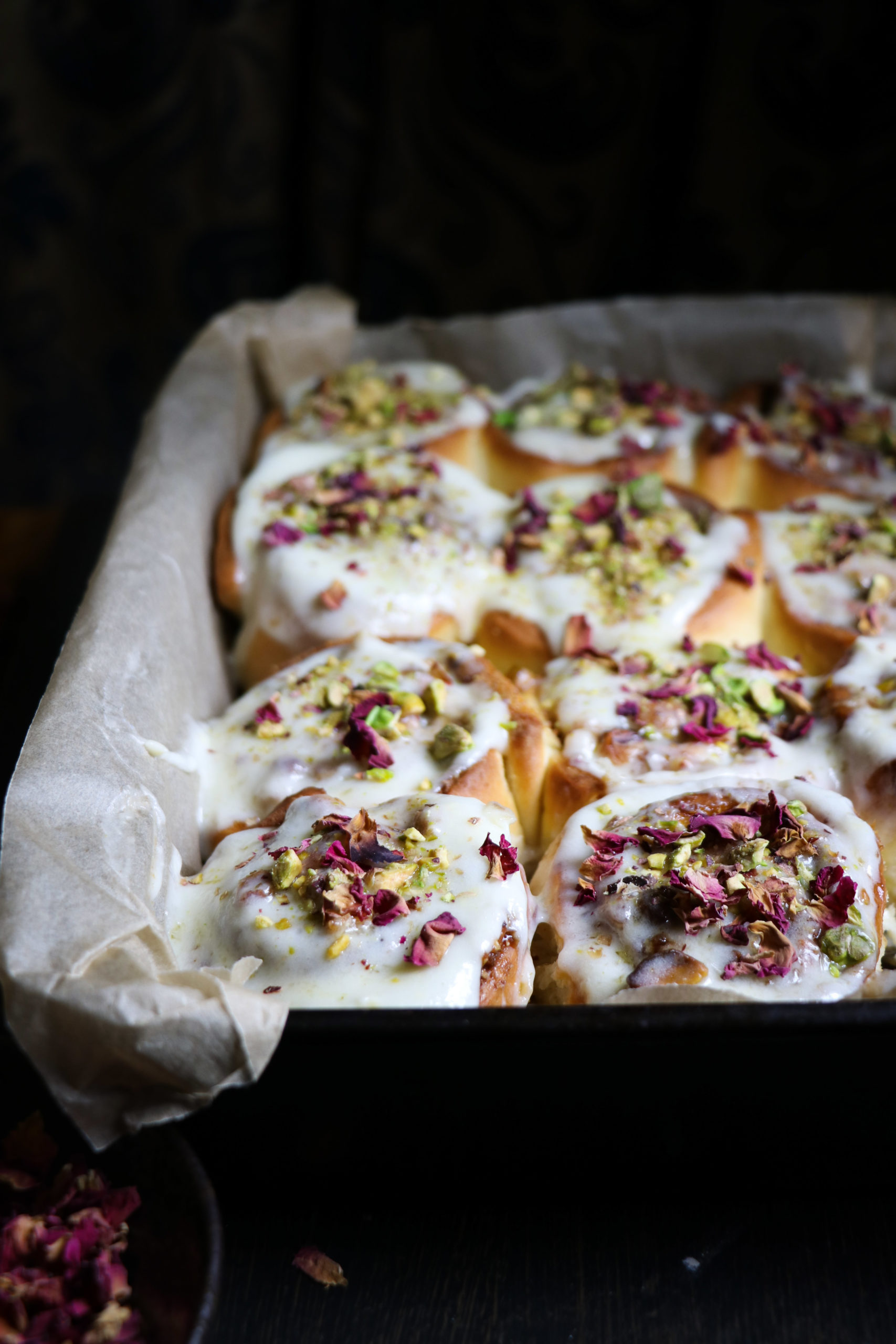 Notes: 
Flour – To get the best & fluffiest result, I use white Bread Flour, if you can find this then definitely opt for it. If it's not available to you plain flour will work just fine
'Softened' – this means these ingredients have been left out to come to room temperature
Rose Water/ Orange Blossom Water – feel free to use a mixture of both, or just one. I like to mix them as it creates the perfect floral balance
Makes:12/ Time: 3hrs (including waiting time)
Ingredients
Dough:
200ml Milk
8g/2.5tsp Instant Yeast

50g Sugar
50g Butter (melted)
1 Egg
Pinch Salt
450g Bread Flour/Plain Flour
Filling:
90g Shelled Pistachios (this means removed from the shell)
90g Walnuts

150g Light Brown Sugar
10g Cinnamon
50g Butter (softened)
Glaze:
50g Butter (softened)
200g Cream Cheese (softened)
4tbsp Rose Water/Orange Blossom Water
100g Icing Sugar

Method:
Heat up the milk until it's warm to the touch

Add the milk to a large mixing bowl, followed by the instant yeast, sugar, melted butter & egg, and give it a quick mix with a fork
Add in the flour and salt  & mix until just combined
Pour onto a lightly floured work surface and knead for 8-10 mins (you could also knead it in a stand mixer for 8 mins)
The dough is will be kneaded fully, when it looks smooth, and when you press on it lightly is springs back to leave no indentations
Place in a large mixing bowl, cover and leave to rise for 1.5hours

Whilst the dough is rising, crush your pistachios and walnuts until they resemble breadcrumbs and set aside (you will be left with some larger pieces and that's fine!), you can do this in a food processor, or with a ziplock bag and a rolling pin
Mix together the light brown sugar & cinnamon and set aside
1.5 hours later, the dough should have doubled in size, at this point, you need to knock it down but pressing it firmly with your fist
Tip out the dough onto a clean surface, and roll out with a rolling pin to form a large rectangle about ½ cm in thickness
Spread on the 50g of softened butter, then sprinkle on the cinnamon sugar & nuts (reserving 2tbsp nuts for decoration)

Starting from the longest edge, roll up the dough into a log, and press it firmly
Cut the log into 12 rounds & place in a lined baking tray (about 9"x12")
Cover the tray and leave to rise again for 30mins
Whilst the dough is rising for the final time preheat your oven to 180°C Fan/200°C/Gas Mark
30 mins later, the dough should have puffed a little, and the buns should be touching a little

Bake for 20-25mins, until all the buns are a deep golden brown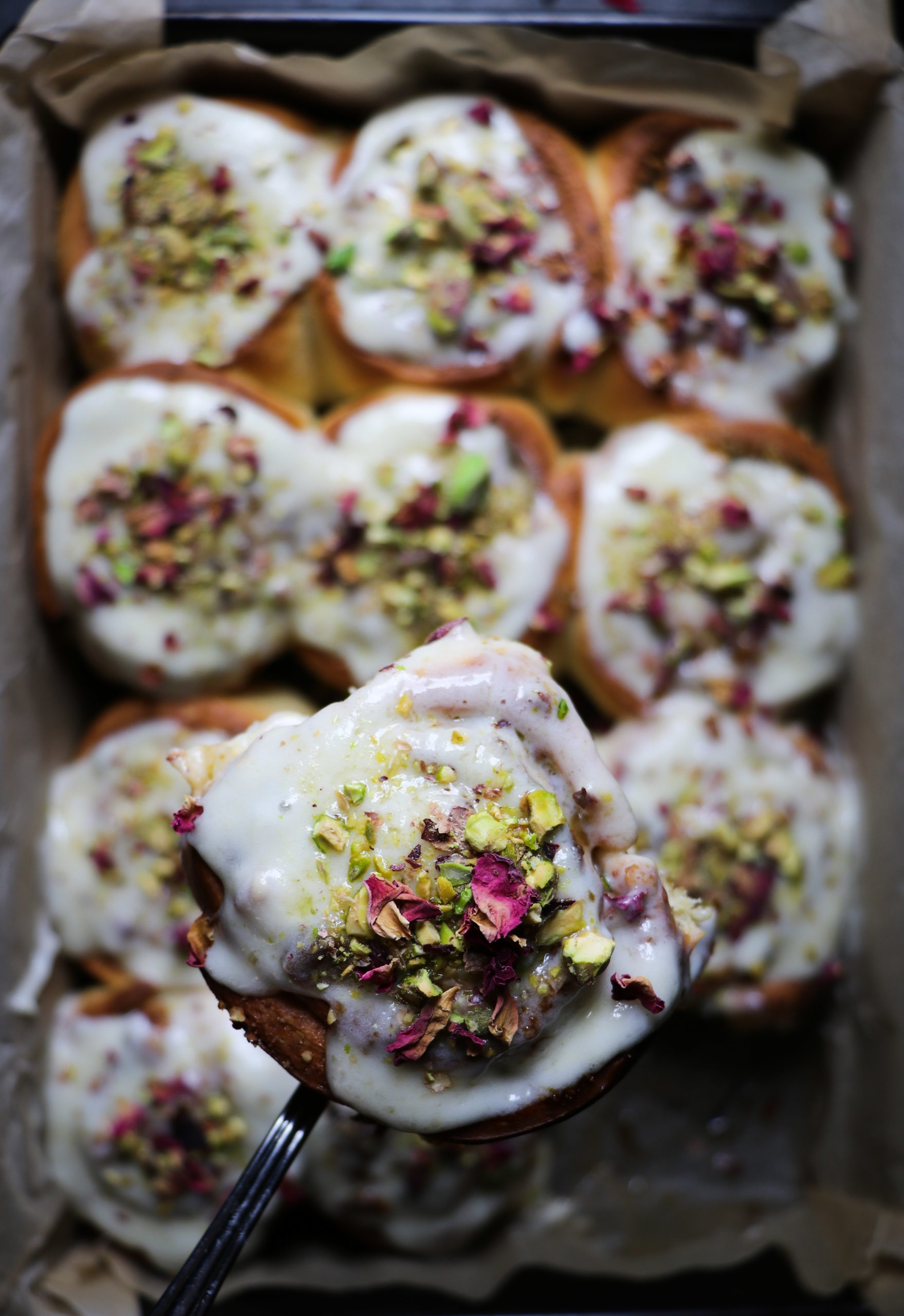 Whilst they bake, prepare the glaze by adding the softened butter to a mixing bowl, followed by the room temperature cream cheese
Stir with a wooden spoon, or whisk, until the mixture is smooth
Add in the rose water/orange blossom water & icing sugar, then stir/whisk until smooth
Once the buns have finished baking, glaze them immediately (whilst still hot), by dolloping approximately 1tbsp of glaze on each and spreading it a little
Top with the nuts you kept aside and any other garnishes
Serve!
This recipe was developed by @Jenanland and the original article can be found here