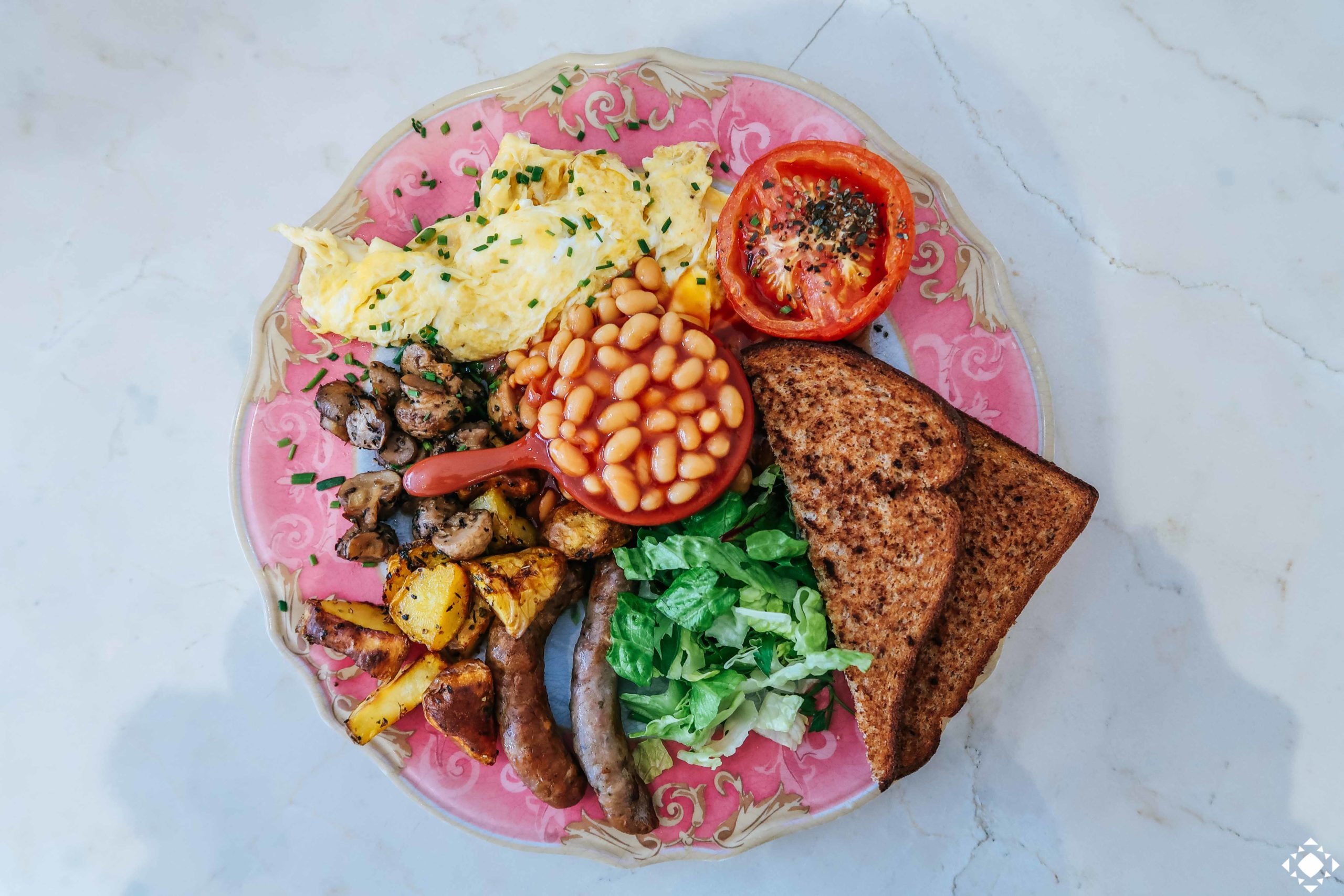 Reviewed by Ruman
There are some areas and cafés in London that tend to be populated by a certain demographic. Fait Maison is one of them. This French cafe has Khaleeji vibes the moment you enter, with Arabic music playing over the Parisian inspired decor.
We walked into the cafe on a Saturday afternoon to try their Full English Breakfast. Priced at £9.25, we were expecting noting short of amazing.
On the plate: Free range scrambled eggs, baked beans, potatoes, roast tomatoes, one chicken sausage, mushrooms, a slice of brown toast (£9.25)
When the breakfast arrived at our table my first thought was 'why on Earth is there shredded lettuce on my plate'. It's safe to say there was nothing standard about this breakfast. The eggs came scrambled which was disappointing. We had assumed they would be fried given that's the norm in a Full English and we weren't asked how we wanted them cooked. The chicken sausages were skinny sausages that didn't have a great flavour and the potatoes were overcooked. For some reason, the chef had decided to put pepper over everything on the plate which overpowered the taste of the individual items. At £9.25, this felt like terrible value for money – even the location (Gloucester Road) couldn't justify the price. Even the tea, priced at £6.95 for a pot, felt extortionate. The cafe felt very 'Dubai' with its attempt at French inspired decor yet Middle Eastern dishes and music.
Overall, we wouldn't recommend Fait Maison for a full English, but for a coffee and cake it's probably a better option. We bumped into a friend at the cafe who said the Afternoon Tea was better value both in terms of price and taste.
Breakfast is served all day.

RATINGSFood:
5/10
Service:
7/10
Atmosphere/Decor:
7/10
Value for money:
5/10 (£16.20 total bill // £16.20pp)
Overall:
6/10
Halal Status:
All meat served is halal.
Address:
50 Gloucester Rd, Kensington, London, SW7 4QT
Nearest station:
Gloucester Road (Circle, District and Piccadilly lines)
Read more reviews of halal breakfast spots in London here.
Discover great halal restaurants near you using the Halal Gems Restaurant Finder App. Download it for free on the App or Play Store here.About Ruman
Ruman eats a brownie a day, but only with coffee. She struggles to eat more than 2/3 of an adult size portion of food, but always has room for dessert. When not exploring restaurants, galleries or cities around the world, Ruman is a Marketing Ninja at Halal Gems, where she also holds the title of Chief Chocolate Officer.
Forever consumed by a mixture of wanderlust and FOMO, her interests include all things social media, travel, charity, photography and food.
You can follow Ruman on
Instagram
and
Twitter
.