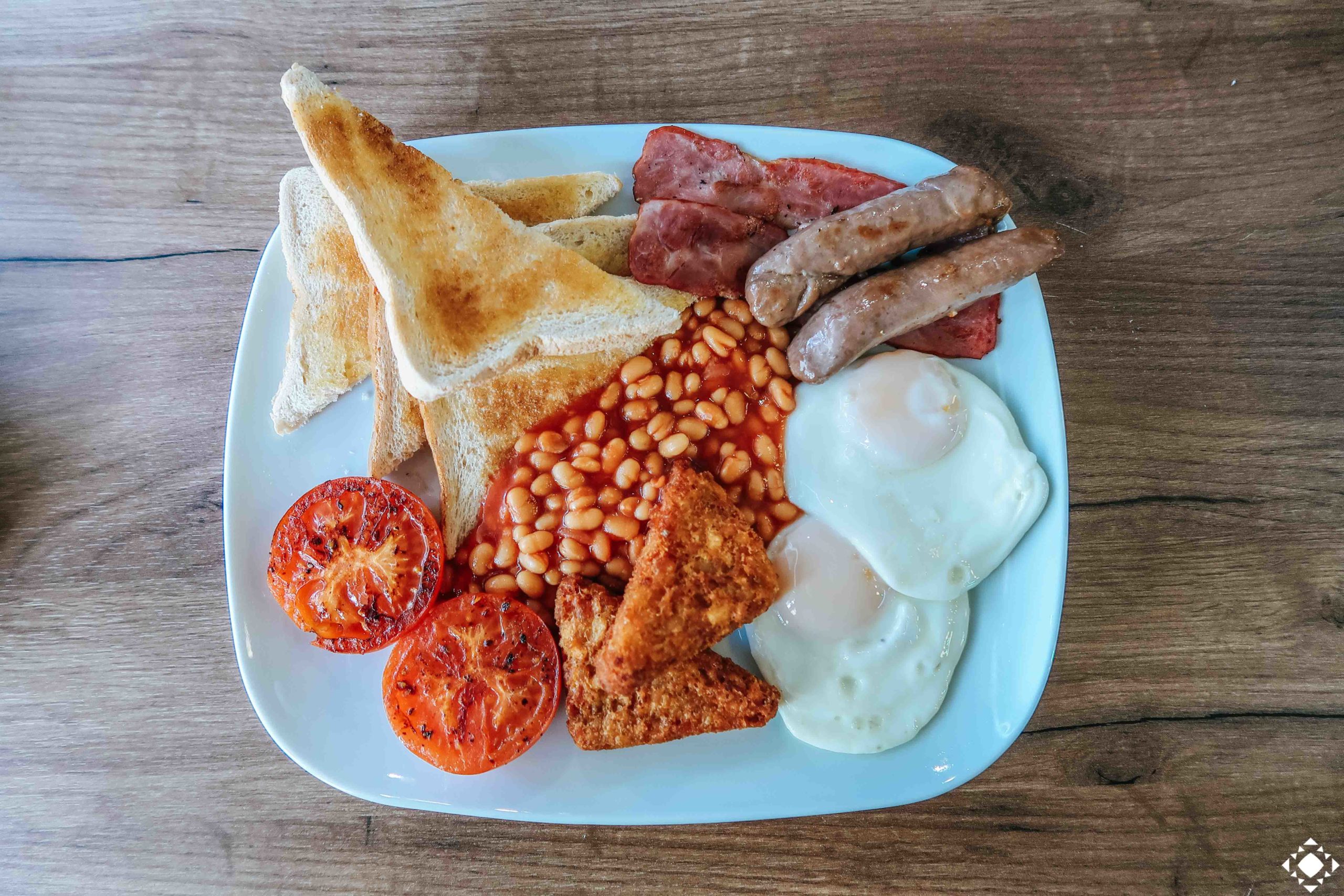 Reviewed by Ruman
Having been to several halal breakfast serving cafés and restaurants in the last few weeks, one question springs to mind : is brown sauce a must have as an accompaniment to a fry up?
This was the question we asked ourselves when we ordered the halal full English breakfast at Meat House London in King's Cross. Zohra and I both agreed it was a must have and were disappointed to find that the restaurant did not have any available.

We ordered the 'Meat House Classic' although we were tempted to get the 'Meat House Special' which was similar to the classic but with the addition of a 4oz sirloin steak. For the purpose of comparison we stuck with the classic which took almost 40 minutes to arrive! It's worth noting here that there were only a handful of customers at the restaurant so we're not sure what caused the delay.
On the plate: two fried eggs, two sausages, two hash browns, two slices of white toast, two turkey rashers, one grilled tomato (halved) and baked beans (£8.95).
At £8.95 we expected an amazing breakfast however we felt like this was simply 'okay'. You can't really go wrong with fried eggs, toast, beens and a grilled tomato so we were paying attention to the rashers and the sausage. The sausage looked a bit strange when it arrived on our table (you might be able to tell in the image but this video shows it better) and when biting into it, we noticed it had a really smooth texture which was… interesting. We asked the waiter about it and he said they make it and spice it themselves but in our opinion, it just looked and tasted like a very processed piece of meat. The hash browns were overdone but I enjoyed the turkey rashers which had a smokey flavour to them.
As mentioned earlier, service was quite slow and one thing that ruined the dining experience for the both of us was the music that was being played. Zohra and I don't normally comment on music played at restaurants and generally speaking, it adds to the ambience of the place. However, the music at Meat House London, aside from being incredibly loud, was also full of expletives, questionable, offensive, vulgar lyrics, and definitely not suitable for a younger audience. It really put us off the restaurant and to be honest, we couldn't wait to get out of there.
Overall, we felt the breakfast was overpriced and the service wasn't great either. It's not a bad option if you're in the area but be prepared to pay more than the average for a halal full English. Ultimately, we wouldn't recommend going out of your way to go to King's Cross to try it.

Breakfast is served from 12pm – 4pm every day.
RATINGSFood:
7/10
Service:
6/10
Atmosphere/Decor:
5/10
Value for money:
6/10 (£ total bill // £pp)
Overall:
6/10
Halal Status:
All meat served is halal.
Address:
Pentonville Road, Kings Cross, London, N1 9JP
Nearest station:
King's Cross (Victoria, Piccadilly, Northern, Circle, Metropolitan and Hammersmith & City lines)
Read more reviews of halal breakfast spots in London here.
Discover great halal restaurants near you using the Halal Gems Restaurant Finder App. Download it for free on the App or Play Store here.About Ruman
Ruman eats a brownie a day, but only with coffee. She struggles to eat more than 2/3 of an adult size portion of food, but always has room for dessert. When not exploring restaurants, galleries or cities around the world, Ruman is a Marketing Ninja at Halal Gems, where she also holds the title of Chief Chocolate Officer.
Forever consumed by a mixture of wanderlust and FOMO, her interests include all things social media, travel, charity, photography and food.
You can follow Ruman on
Instagram
and
Twitter
.