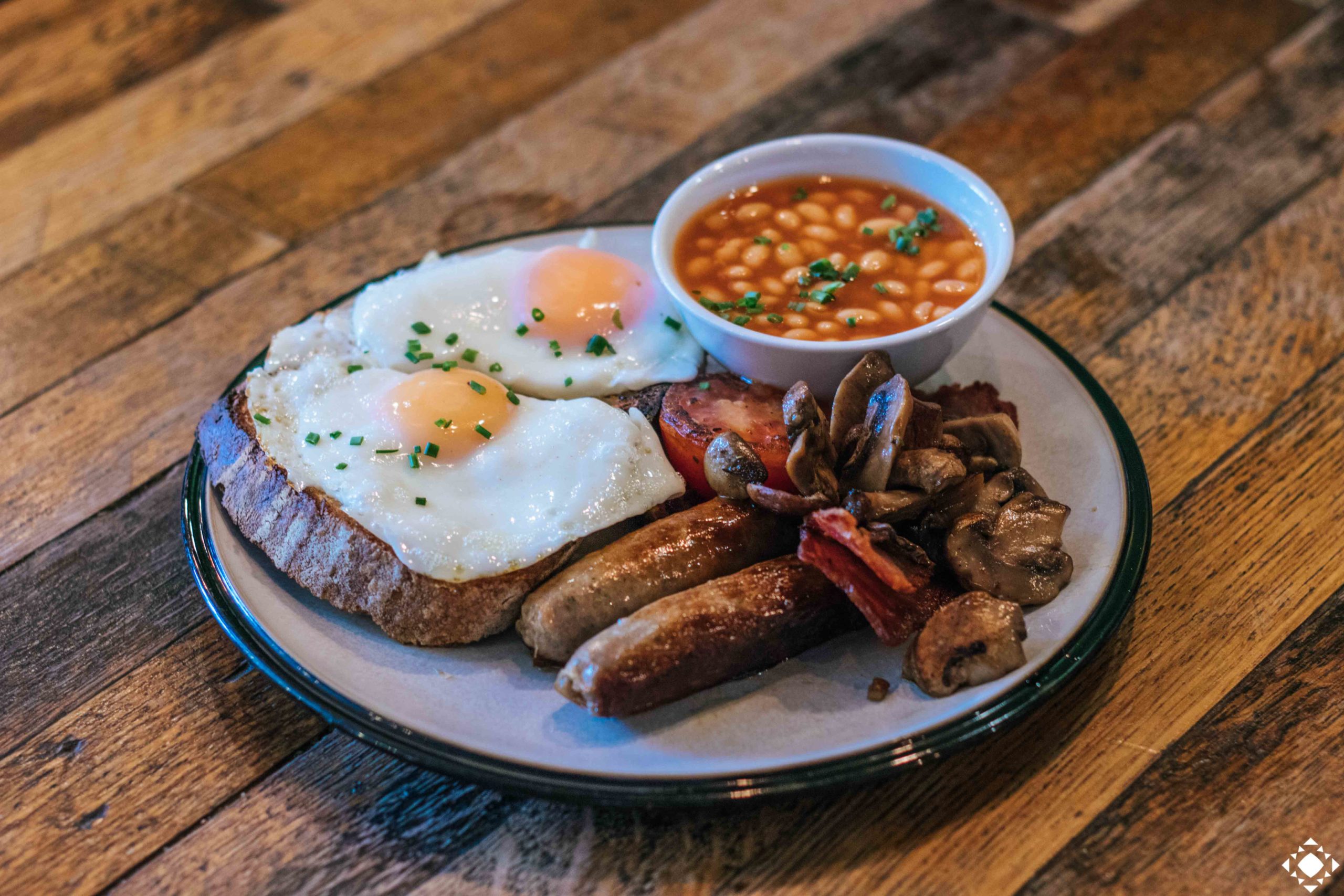 Reviewed by Ruman
As an East Londoner, Grounded Coffee Company is usually my go-to when it comes to looking for a cute, fully halal café that isn't too far from central London. I've always like the vibe of the café and free wifi has resulted in many meetings there.
It had been a while since I'd had a Beef Sausage Breakfast at Grounded Coffee Company so Zohra and I headed to Aldgate East to see if it was just as good as we remembered. The first thing we noticed when we ordered was the increase in the price of the dish. I can't remember what it was exactly before but it definitely wasn't the hefty £9.50 that it is priced at now.

On the plate: two organic, fried eggs, two beef sausages, two turkey rashers, baked beans, half a grilled tomato, sautéed mushrooms and a slice of sourdough toast.
The quality of the meat in the breakfast was just as good as it has always been. Grounded Coffee Company use beef sausages in their breakfast which are great quality and flavoursome. They seem to have now switched from beef bacon to turkey. I thought I wouldn't like the switch but the turkey bacon was actually quite nice. The eggs used at Grounded Coffee Company are organic which is a plus. My one gripe with the breakfast at Grounded is that although I appreciate the use of sourdough toast, the edges are always too tough to cut. As much as I appreciate fresh bread, its in instances like this where I would happily settle for a slice of Kingsmill.
Since my last visit, Grounded Coffee Company also seem to have changed the way they present the dish. The beans now come served in a bowl and so the breakfast isn't so spread out. See my image below for what the breakfast used to look like (note that in that visit, I added halloumi).
Overall, the quality of the breakfast is good but at £9.50 it's the most expensive breakfast we have had in London. For the location, we don't think it's great value for money. We appreciate the use of high quality, fresh ingredients but the tough sourdough lets it down. Worth visiting if you're in the area, but be prepared to pay a fair bit!

Breakfast is served all day, every day.
RATINGSFood:
8/10
Service:
7/10
Atmosphere/Decor:
8/10
Value for money:
6/10 (£9.50 total bill // £9.50pp)
Overall:
7.3/10
Halal Status:
All meat served is halal.
Address:
9 Whitechapel Road, London, E1
Nearest station:
Aldgate East (District, Hammersmith & City lines)
Read more reviews of halal breakfast spots in London here.
Discover great halal restaurants near you using the Halal Gems Restaurant Finder App. Download it for free on the App or Play Store here.About Ruman
Ruman eats a brownie a day, but only with coffee. She struggles to eat more than 2/3 of an adult size portion of food, but always has room for dessert. When not exploring restaurants, galleries or cities around the world, Ruman is a Marketing Ninja at Halal Gems, where she also holds the title of Chief Chocolate Officer.
Forever consumed by a mixture of wanderlust and FOMO, her interests include all things social media, travel, charity, photography and food.
You can follow Ruman on
Instagram
and
Twitter
.