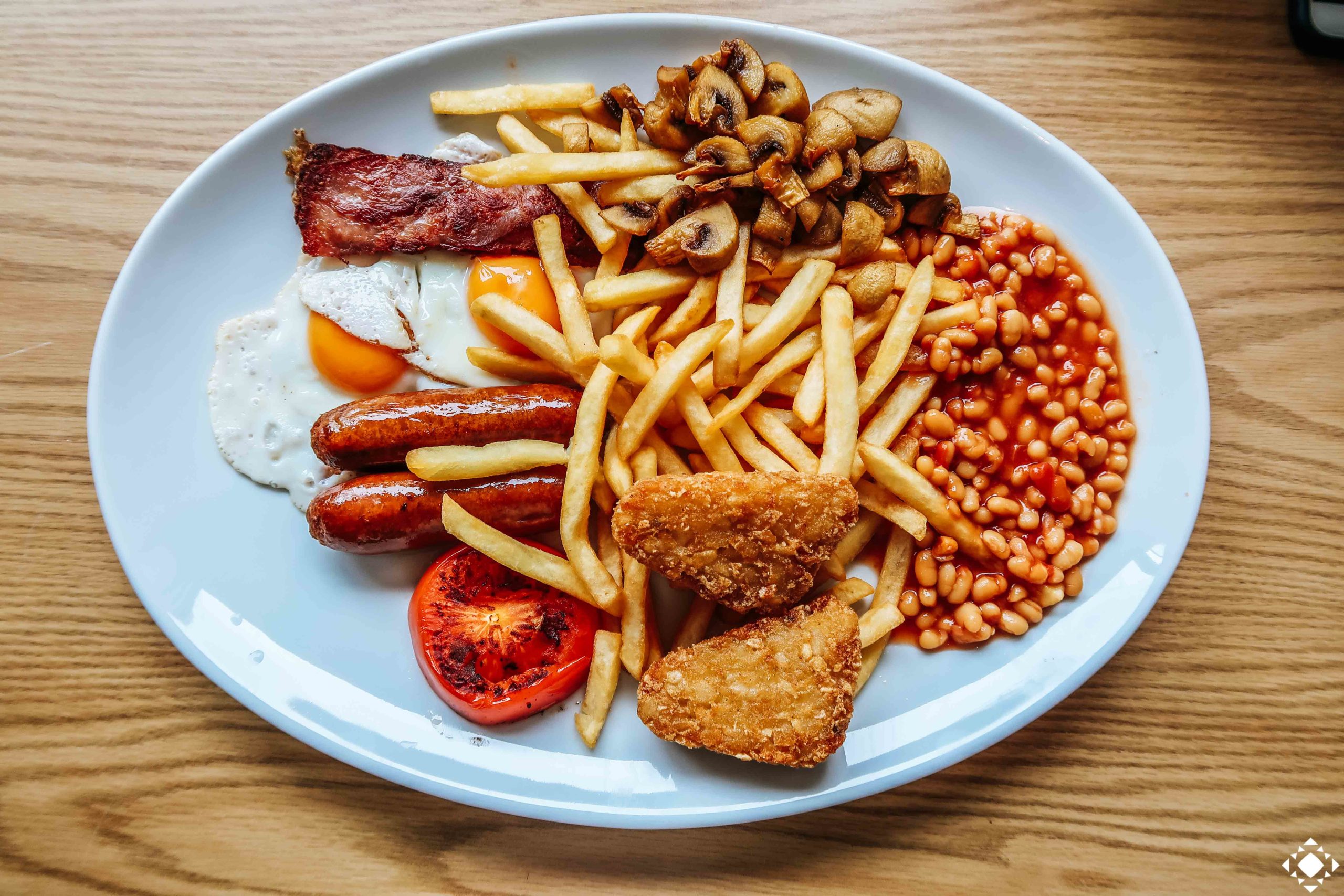 Reviewed by Ruman
Ilford sometimes feels like its at the other end of the world but we've found ourselves heading there twice recently. Once for Built Burgers (more on that here) and again for breakfast at Moral Café on Ilford High Road.
After what felt like a very long walk from the station, we arrived at Moral Café ready for a hearty full English. The café was pretty packed, which we weren't expecting but that's probably because it was almost lunchtime by the time we got there. The seating at this bright café comprises of four-seater booths. We sat down, browsed the menu and were quite surprised at the range of options available on the menu. Starting from £6.80 and going up to £10.50 for a set breakfast, Moral Café has options for meat lovers and vegetarians alike as well as incorporating Mediterranean items into their breakfasts. We went for the Moral Booster (£6.80).
On the plate: two fried eggs, two chicken sausages, chicken rashers, grilled tomato, mushrooms, chips, baked beans, two hash browns, two slices of toast (served with tea or coffee).
Our plate arrived at the table and it was huge! This breakfast was the only one we have had recently that included chips (or had that option). It was quite a good breakfast. Pretty standard in terms of flavours – I wasn't a fan of the chicken sausage (unsurprisingly – I really don't like chicken sausages!) but Zohra liked them and everything else was good. The rashers were chicken rashers which were a first for us but they tasted good too. Overall, a decent breakfast, great portion size, good value for money but given its location maybe just one for the locals.
Breakfast is served until 4pm every day.
RATINGS

Food:
8/10
Service:
7/10
Atmosphere/Decor:
7/10
Value for money:
8/10 (£8.50 total bill // £8.50pp)
Overall:
7.5/10
Halal Status:
All meat served is halal.
Address:
313 High Road, Ilford, IG1 1NR
Nearest station:
Ilford (TFL Rail)
Read more reviews of halal breakfast spots in London here.
Discover great halal restaurants near you using the Halal Gems Restaurant Finder App. Download it for free on the App or Play Store here.
About Ruman
Ruman eats a brownie a day, but only with coffee. She struggles to eat more than 2/3 of an adult size portion of food, but always has room for dessert. When not exploring restaurants, galleries or cities around the world, Ruman is a Marketing Ninja at Halal Gems, where she also holds the title of Chief Chocolate Officer.
Forever consumed by a mixture of wanderlust and FOMO, her interests include all things social media, travel, charity, photography and food.
You can follow Ruman on
Instagram
and
Twitter
.